Home Grown Hero
You'd expect an Impreza honed by Prodrive for UK roads to be special – we take one for a blast to see just how special
Words John-Joe Vollans Photography Adam Shorrock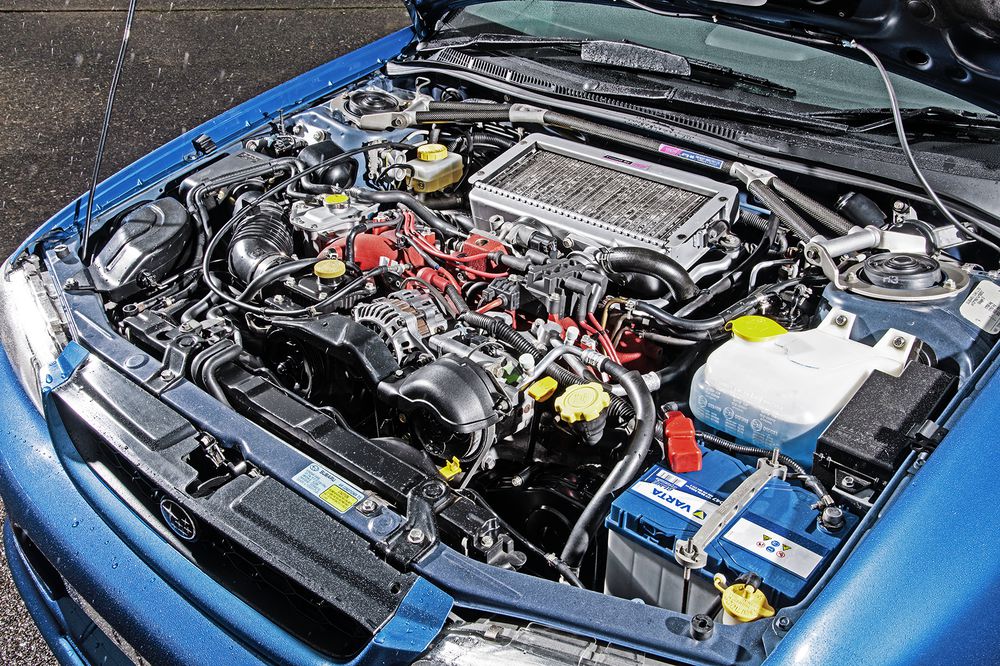 For blighty-based petrolheads, news of a three-door Impreza solely for our shores was greeted with rapturous applause. Subaru had teased us with the 22B but such tiny numbers made it over here (less than 20) that it only served as an aperitif. Prodrive's main man David Richards had been keeping a beady eye on the grey import boom. Together with Subaru UK, he had noticed a gap in the market which the P1 was primarily designed to fill. The marketing message was somewhat different of course…
According to Richards, his firm created the P1 to give UK drivers, 'the opportunity to buy an Impreza that came closest to replicating the performance of the competition car.' That competition car he was referring to was certainly something that enthusiasts were clamouring to get a taste of. With consecutive WRC constructor titles from 1995-1997 and driver's titles for Colin McRae and Richard Burns, Subaru's dominant competition reputation among rallying fans couldn't have been higher. The brand might have been well known but Prodrive always felt its involvement wasn't quite as clear. The 'P' in P1 stood for Prodrive to redress this.
As the Impreza was already a formidable rally weapon, the P1's job wasn't to homologate any updated mechanical or aerodynamic improvements, its sole purpose was to be a driver-focussed, limited-edition celebratory model.
In a nod to homologation however, a limited run of just 500 P1s was planned. As the press hype built, and word of mouth spread from the first owners, this modest production run was quickly doubled.
The turn of the millennium seems like a very long time ago as we stand drinking in this 2000s' heroes' lines on a deserted road just outside King's Lynn. The car we've been lucky enough to get a hold of for the day was recently sold at Anglia Car Auctions. Before it goes to its new owner, we're going to fire it down some of Norfolk's finest B-roads to see if it really is optimised for the UK, as Prodrive claimed nearly 20 years ago.
This part of Norfolk wasn't chosen for its dramatic scenery, there isn't any, or its convenient location. It was chosen because these East Anglian roads are infamous for their broken and undulating nature. This whole region was on the edge of the 'land bridge' that used to join us to mainland Europe. After the melting of the northern hemisphere's glaciers at the end of the last ice age, about 11,000 years ago, we were cut off from Europe as sea levels rose. This area became marshland soon after and it remained as such until Dutch engineers came over and drained huge parts of the East of England in the 17th century.
One of those Dutch agricultural engineers was probably a distant relative, but I doubt that Vollans thought 400 years later his descendent would consider regained land the perfect ground upon which to test a Subaru. However, the foundation land under which these roads were laid is constantly shifting. The result is roads with all the camber changes and undulations of a far flung tarmac Rally stage.
If you've ever driven along a fen drain you'll know what I'm talking about. These roads are torturous for suspension systems and only the most compliant and supple machines are able to take them at anything other than a glaucoma-suffering pensioner's pace. Is the P1 up to the challenge?
First impressions are good as we clamber into the driver's Recaro bucket seat and disable the key-fob immobiliser. Twisting the key wakes the Subaru boxer engine, provoking a smile as that trademark 'warble'
emits from under the bonnet. It's caused by the unequal length of the exhaust manifolds and is as representative of 1990s Subaru as that famous 555 livery. What's also very indicative of the era is the myriad of blinking and flashing gauges all around the periphery of the driver's eye-line. I've got boost readings, knock warnings, oil and coolant temperature readouts all fighting with each other for my attention.
There are instructions everywhere you look too. I'm being told to let the car idle after a long motorway drive by the text on the door card, and also to change the oil every six months by the sun visor. It's all very Japanese, except of course in this Impreza, it's all written in English. One sign however, commands my attention. The large 'P1' emblazoned in Terminator II-type script just in front of the gearstick. There's an accompanying build number, in this instance number 615 of 1000. The gadgets, the plaque and the soundtrack all suggest that this Impreza is something very special.
A sense that is reinforced as I wind up the speed and push this P1 through some bends. The ride, which at low speed felt harsh, begins to settle and the body control is taught. There's a subtlety to this Impreza that speaks volumes about how thoroughly the damping was tested. There's a precision that doesn't come at the expense of ride comfort. Of course, it's a performance car so don't expect it to be cossetting but neither is it punishing. This is the essence of what makes the P1 such a capable tool on these far-from-perfect roads.
It goes without saying that traction is good, this is an Impreza after all, but the way this thing grips the tarmac shoves your organs to the side of your ribcage. The power is split 60/40 front to rear giving you the confidence to get on the gas early in the bends. Don't get greedy though or the nose will try to connect with a ditch. The P1 isn't over-rubbered, its 205 cross section tyres are just wide enough to grip when you want, yet will let go when you don't; during weight transfer approaching a corner for example. Lift off the gas with some determination and the rear goes very light. If you're not expecting it, it can catch you off guard, but there's really nothing to fear as a prod of the throttle will sort things out.
Boost builds rapidly and there's a healthy dollop of power propelling you toward the greenery with a vengeance over 4000rpm. That's when all those monitoring dials that were baffling earlier start to wag their needles at you. The revs pick up pace dramatically, as does your heartrate. Things get serious in the P1 very quickly indeed. A standard Impreza WRX certainly doesn't feel slow, but the 276bhp on offer in the P1 sees 60mph breached in just 4.6 seconds. It'll defy physics by reaching 100mph in just over ten seconds and will keep going all the way to 155mph before aerodynamics and gearing put an end to the fun. Still impressive figures to this day.
Once I've finished pretending I'm Richard Burns – if only to give the brakes a much-needed breather as they're only just up to the task – the P1 does a fairly competent job of ferrying you about in relative comfort. The dash plastics sound like they're made from the same material as my 18-month old's highchair. It's indicative of the era and country of origin of course and the important bits, the wheel and the gearknob, are solid and leather-bound.
The Modern Classics View
We realise that there are almost as many opinions as to which is the best Impreza out there as there are special-edition candidates for that particular accolade. The main reason that we're not getting dragged into that argument is that we've already categorically answered this question (in issue ten), but also because it seems academic. There's only one first-gen Impreza built by the guys responsible for the all-conquering WRC weapons – this one. Not only that, the P1 was also designed specifically with British roads in mind, and it shows. It's compliant without being soft, as well as being perfectly geared, set up and tweaked for peak performance on the demanding B-roads that snake across the UK.
In terms of its credentials as a modern classic, that was assured from the word go. It's a limited-edition special from one of the most successful motorsport titans of the past 30 years. It remains a desirable secondhand prospect, with values remaining strong and continuing to rise. Currently it'll take £25,000 to net you a great example worth holding onto. For this you'll get a car with superb history from Subaru main dealers or specialists and around 50,000 miles or less.
However, don't be put off by well-maintained cars with higher mileages. You might lose some residual resale value, but this simply gives you the perfect excuse to get behind the wheel and enjoy these cars on the very roads they were created to attack.
Subaru Impreza p1
Engine 1994cc, flat 4-cyl, DOHC
Transmission 4WD, 5-speed man
Power 276bhp@6500rpm
Torque 260lb-ft@4000rpm
Weight 1295kg
Performance
0-60mph 4.6sec
Top speed 155mph
Economy 18mpg