Nissan Skyline GT-T
The Nissan Skyline GT-T isn't just the budget GT-R option – it's great to drive in its own way, and is set to appreciate. Don't get frozen out...
Words Nathan Chadwick Photography Adam Shorrock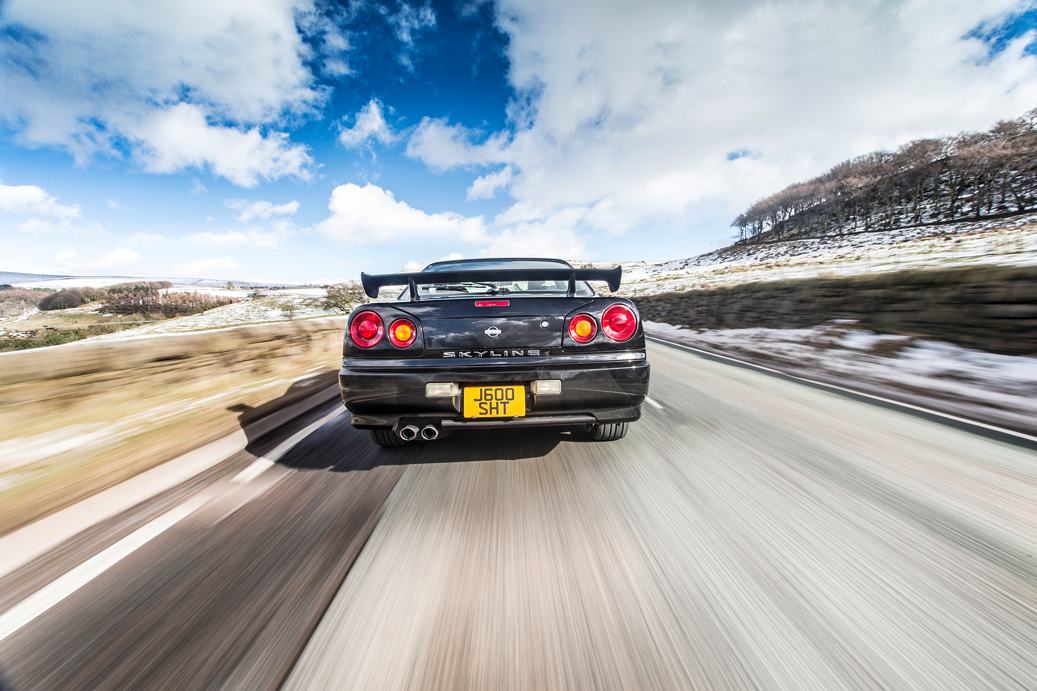 The freezing air is perforated by a van's frantically beeping horn. There's a waving thumbs-up from its driver as it powers past the layby we're occupying.
Josh Tarris simply smiles. 'I've had people come up and ask me if it's a V-Spec.' He's referring to the extra-special version of the R34 GT-R, a household name even among non-petrolheads thanks to Gran Turismo and The Fast and the Furious.
There are a few visual clues to tell you that this isn't a GT-R. It looks leaner, slightly less musclebound than its illustrious sibling, and it has just the one intercooler vent on the passenger's side. It's still distinctly Skyline though, the quad rear lights unmistakable, the squared-off dimensions as brutal as ever and, of course, there's that enormous rear spoiler.
The aero isn't just for show, either. This might not be as hardcore as the GT-R, but this is no semi-skimmed Skyline. The single-turbo R25DET NEO twin-cam delivers 276bhp and 253lb-ft of torque, in a body that weighs 1400kg – some 160kg less than an E46 M3.
Good figures, though sitting in the Skyline, it's not hard to see where the BMW's extra podge comes from. The interior plastics are a little low-rent. But when you grab the perfectly-proportioned steering wheel and start to work the ideally-placed gearshift, the minor whinges about interior trim quickly melt away.
The engine fires to a throaty burble, thanks in part to one of the few mods Josh has made to this car – a stainless steel exhaust system. It's a broad, low-pitch grumble, the kind of noise a mildly frustrated pet lion might make.
Happily, the car is a lot friendlier in its actions than the king of the jungle. The short-shift gearlever snicks around the five-slot gate with precision, and the clutch is toe-touch light. That big rear wing might scream sharp-clawed predator, but right now it's an absolute pussycat.
That feeling doesn't quite go away as I start to stroke the engine to life. It's an angry, mechanical noise rather than a tuneful howl, transforming into an buzzy roar as 3000rpm arrives, the turbo spools up and inertia tries to peel your fingertips off the steering wheel.
So far, so Skyline, but the GT-T delivers its boost in a much more malleable, linear fashion. Peak torque comes in at a fairly low 3200rpm, but you can ride the wave to 6000rpm. And though the needle doesn't quite slam around the dial, that's not necessarily a bad thing...
You see, much as we love the GT-R, pushing its chassis to its limits anywhere other than a racetrack is likely to turn you into Daily Mail headline fodder or a vat of human Dolmio, whichever comes first. It's a fantastic car, and its twin-turbo thrust is a potent narcotic, but unless you're fully on it, driving one can feel remote. The GT-T delivers its grins more readily. It's more fun, more of the time.
It begins with the steering. Sharp and direct, it has a pleasingly mechanical, granular feel. Where an E46 M3 can feel artificial as you start to lean on its chassis, the GT-T feels real, giving you the confidence to push harder. The linear turbo surge is a huge help. I'm nowhere near the drifting hero Jethro is, but the way the GT-T transitions to oversteer is so smooth, so predictable even my dog could do it. You really can feel the viscous limited-slip diff working, and there's plenty of mid-corner adjustability.
Drifting isn't for everyone, of course, but even if you judge it on its other merits, there's so much to enjoy here. There's no discernible body roll, cornering is flat, and driven at anything up to seven tenths, there's plenty of grip. The ride is firm, but far from the corporal punishment the GT-R metes out, and the ventilated disc brakes are strong enough to punish your neck muscles.
The steering is blade-sharp, assisted by the HICAS (High Capacity Actively Steers) rear-wheel steering system. First seen in the R31 Skyline GTS, HICAS steers the back wheels in the same direction as, or the opposite direction to, the fronts using sensor inputs based on road speed, steering wheel angle and so on. This car has Super HICAS, which samples a vast array of possibilities to predict, in one thousandth of a second, what the driver wants to do. In the GT-T, the result is an ability to place it with absolute precision.
It's not perfect: it rides quite high, so it looks like it's on stilts if viewed from the side, though that's easily solved with a lower suspension setup. It's a bit tight on space if you're taller than the average Japanese businessman, and the traction control only has two settings – on or off. Switched on, the revs are cut pretty brutally in tight corners. Best leave it off then.
But there's so much to like with the GT-T. Where some turbocharged Japanese performance cars can be eye-poppingly quick and yet oddly remote, here the removal of four-wheel drive turns the Skyline into a truly engaging experience that everyone can enjoy.
The Modern Classics view
The GT-T will go up in value. That much is certain. Put it down to the ever-increasing cost of entry to the R34 GT-R club. If you think it's pricey now, just wait until the USA allows R34 GT-R imports in under its 25-year 'show and display' rule. Delta Integrales and M3 Evos rapidly rose to crazy levels for the same reason.
If you can't spring for an R34 GT-R and the R32 and R33 GT-R don't appeal, your only choice will be the GT-T. That's not a Hobson's choice. The GT-T has its own niche, and the scarcity of non-rusty, non-bodged manual GT-Ts is a big point in its favour. Just one in ten GT-Ts had the desirable five-speed manual gearbox; find one of those and keep it as standard as you can.
Move fast though. The yen is strong against the pound at the moment, but buying one from Japan still makes sense: nobody knows what effect Brexit will have on the currency markets. Right now, £18k will bag you a great manual R34 GT-T. And though that's temptingly close to an R33 GT-R, for that money the older, bigger brother will likely be showing expensive-to-fix wear. Decent low-miles R33 GT-Rs start at £25k.
We believe the R34 GT-T is an underrated gem of a car that deserves to emerge from its Japanese performance car niche and be heralded as one of the great rear-wheel drive chassis to come out of the late 1990s. Act now before everyone else agrees with us.